Customized cufflinks made by the Leidsche Das.
Customized cufflinks in your personalized design.
Our minimum order quantity for making custom cufflinks in your specially made personalized design is 15 cufflinks sets.
If you would like to have custom cufflinks made, please contact our free design service by filling out the web form at the bottom of this page.
The listed prices include the creation of your personalized design made by our cufflinks designers based on your wishes.
What else is included in the price if you want to order customized cufflinks?
1: We don't charge set-up costs.
2: We don't charge for de production of the mold.
3: The cufflinks will be delivered in a standard storage box.
An example image of our standard storage box for cufflinks.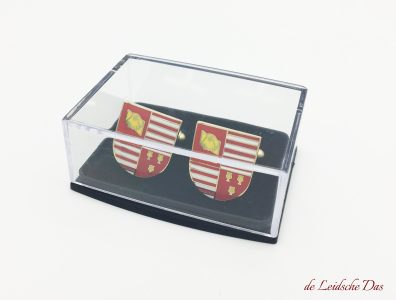 If you want a more luxurious or personalized storage box for your cufflinks please contact us about the possibilities and prices.
The prices shown for custom cufflinks are in US dollars. If you would like to receive the prices in a different currency please contact us for a suitable quote.
During the design or ordering process, you will not be confronted with unexpected additional costs.
Our prices for customized cufflinks in US dollars.
| Quantity (from) and Price per cufflinks set |          USD |
| --- | --- |
| 15 up to 29 pcs of specially made cufflinks sets. |         $ 18,10 |
| 30 up to 49 pcs of specially made cufflinks sets. |         $ 14,65 |
| 50 up to 99 pcs of specially made cufflinks sets. |         $ 12,40 |
| 100 Plus pcs of specially made cufflinks sets. | Price on request. |
The time we need to make your customized cufflinks.
After you have given your approval to the design of the cufflinks and paid the invoice, we start the production process.
We have an average production time of two to four weeks for custom-made cufflinks.
Please note that we don't accept rush orders for custom-made cufflinks!
Request form for a customized design for cufflinks.
You will undoubtedly have a number of your own ideas and requirements for the design of the cufflinks yourself.
Share your wishes with our cufflinks designers and they will create a unique cufflink design based on your specific needs.
Fill in the fields below and tell our cufflinks designers more about your wishes.
Request form free cufflinks design.
We will be happy to discuss the many possibilities for your cufflinks design with you. Feel free to contact us, we will respond to your message within 24 hours.

We are a Dutch company located in the historic city of Leiden in The Netherlands and we design and manufacture custom logo cufflinks and high quality woven custom made neckties and bow ties in silk and microfiber for companies, army regiments, schools, colleges, hospitality industry, universities, organizations, (sports)clubs, fraternities, societies, local governments, and political parties.