Customized green neckties made by the Leidsche Das.
Personalized green neckties.
Custom woven green neckties made in your own chosen style, pattern, fabric, and colors.
At the top of this page as an example an image of green neckties that we made to order for a client. These handmade neckties are custom woven to the design in high-quality microfiber.
We manufacture handmade high-quality custom woven logo neckties in a personalized design and we can produce them for you in high-quality microfiber and in 100% silk.
Whether you want neckties made in a solid color or with your own custom-designed striped pattern the possibilities for your design and color combinations are almost endless.
Some examples of tie designs to illustrate the possibilities.
Are you interested in having logo neckties made in your own personalized design for your company, organization, or (sports)club?
Design your own logo neckties in close cooperation with our experienced designers by using our free design service. Contact Necktie Designers.
Our prices for personalized green neckties & for any other color(s) combination.
What's included in the price if you want to have custom neckties made?
1: No design fees, prices include creating the design of the necktie.
2: We don't charge any start-up costs.
3: We don't charge extra costs for using multiple colors.
4: We don't charge for adding text, one logo or recurring logos, or extra stripes or lines.
Our prices for custom made personalized neckties are listed in our price list in the following currencies: Euro's, US Dollars, and British Pounds.
Our pricing for customized neckties woven in high-quality microfiber. Minimum order quantity 50 custom neckties.
| Quantity (from) and Price per tie | EURO           USD            GBP |
| --- | --- |
| 50 up to 99 Custom neckties. | € 11,98       $ 13,55         £ 10,80 |
| 100 up to 199 Custom neckties. | € 9,60         $ 10,90         £ 8,65 |
| 200 up to 299 Custom neckties. | € 8,35         $ 9,45           £ 7,55 |
| 300 Plus custom neckties. | € 7,15         $ 8,10           £ 6,50 |
Would you like to have your neckties made in 100% silk? For our pricing for silk visit the following page; pricing silk neckties custom made.
If you want more information feel free to contact us.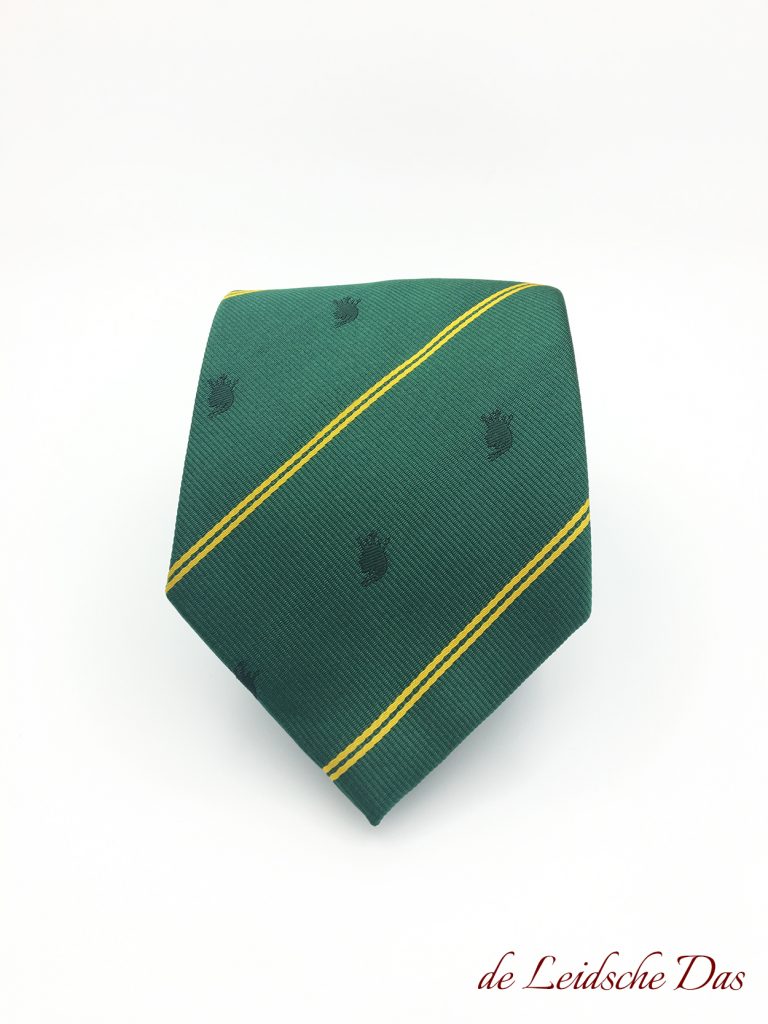 We are a Dutch company located in the historic city of Leiden in the Netherlands and we design and manufacture high quality woven custom made neckties and bow ties in silk and microfiber for companies, army, schools, colleges, hospitality industry, universities, organizations, (sports)clubs, fraternities, societies, governments, and political parties.