The difference between the necktie stripes pattern of European ties and American ties.
Did you know that there is a difference in the stripes pattern between European ties and American ties!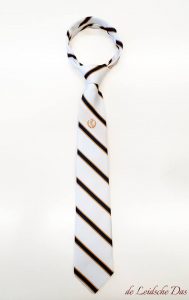 Here's a brief look back at the history of the necktie stripes pattern.
The stripes of European ties run from bottom left to top right. The stripes of American ties run from bottom right to top left.
There are different versions of why this is the case and opinions are divided.
Some say that there was a difference in weaving technique, others say that imported fabric in the usa was accidentally miscut.
But if we take a closer look at the history of the necktie, here too the origin lies in military practices.
Around 1900 the British regiments each had their own motif in their regimental tie, but with each regiment the stripes ran from bottom left to top right.
One could assume that the U.S. Army deliberately chose to distinguish itself from the British Army by choosing a different stripe pattern for their military neckties.
There is a simple explanation for the difference between the stripe pattern. When a European soldier carries his riffle in sling over the shoulder it is the left schoulder and for an American soldier it is the right shoulder.
Just like in Europe, this military use of the army has been taken over by the civilians in America.
If you would like to have customized ties made, please contact us using the following web form.
For information about our prices for tailor-made ties, please go to prices.