Original neckties in your custom design made by the Leidsche Das.
Custom made original neckties woven in your personalized tie design.
Whether you want a classic striped tie or a tie in a solid color! We can design your tie and take your tie design into production.
Do you want to have ties made for your company, organization, etc.? Contact our free design service and our designers will assist you to create a unique design.
Visit our gallery for some design inspiration.
Ordering your own original custom made neckties in your personalized design is already possible from a minimum order quantity in the following materials;
High-quality microfiber – minimum order quantity 50 neckties.
100% silk –  minimum order quantity 35 neckties.
We weave the fabric entirely to the design. After the weaving process is finished, the fabric is cut and your ties are put together manually.
Our prices starting at 50 pieces for neckties custom woven in high-quality microfiber.
| Quantity (from) and Price per tie | EURO           USD            GBP |
| --- | --- |
| 50 – 99 Custom neckties | € 11,98       $ 13,55         £ 10,80 |
| 100 – 199 Custom neckties | € 9,60         $ 10,90         £ 8,65 |
| 200 – 299 Custom neckties | € 8,35         $ 9,45           £ 7,55 |
| 300 Plus custom neckties | € 7,15         $ 8,10           £ 6,50 |
If you want to receive a quote in another currency please contact us.
Your custom-designed original neckties woven in high-quality microfiber.
Silk remains without a doubt the most beautiful material to make ties with. A very good alternative to silk is to have ties made in microfiber.
Most of our customers choose a necktie of high-quality microfiber. Ties made from microfiber not only looks better than plain polyester, but it is also significantly more durable.
Microfiber is the best alternative to silk for making ties. It is considerably cheaper than silk but with the same luxurious look and shine.
You really don't compromise on quality when you choose to have your neckties made in high-quality microfiber.
Would you like to know the prices for custom made silk neckties? Visit the following page; Custom made silk neckties prices
The time we need to produce your original neckties.
In general, the entire production process of your custom made neckties takes four to eight weeks.
When we receive your approval for the necktie design, we will send you the final quotation. As soon as we have received the payment from you, we will start the production.
During the production process, you will be kept informed about the progress. Please note that we do not take rush orders!
We will be happy to discuss the many possibilities for your necktie design with you. Feel free to contact us, we will respond to your message within 24 hours.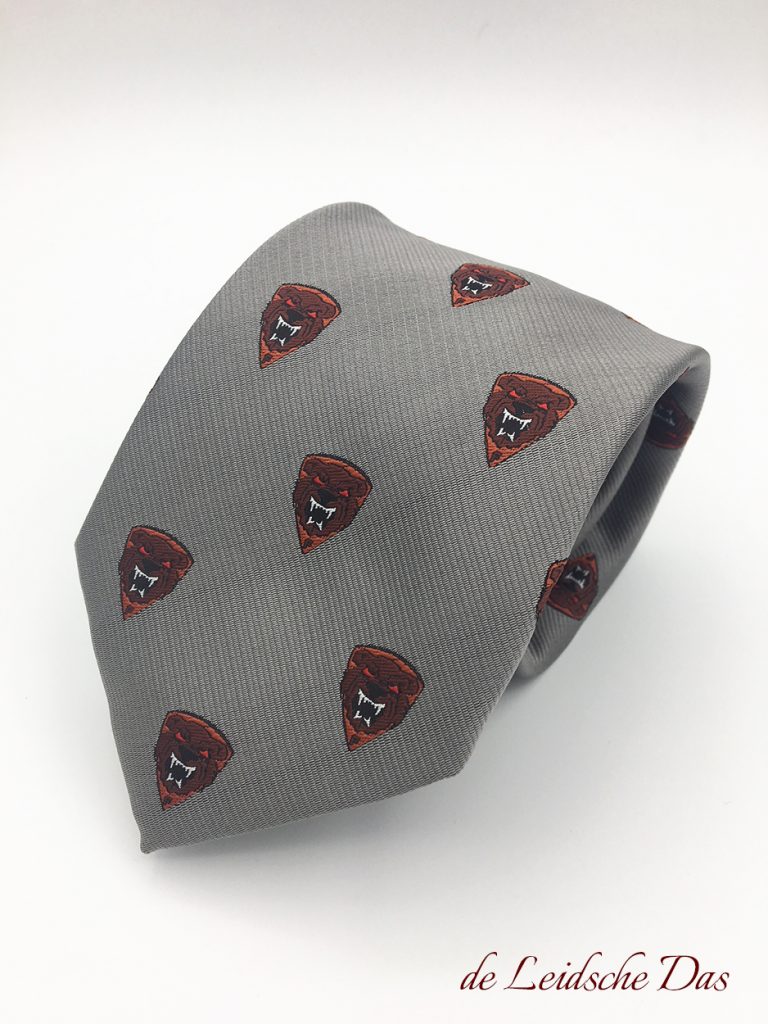 We are a Dutch company located in the city of Leiden in the Netherlands and we design and manufacture custom made neckties and bow ties.
This explains the name of our company, the translation of the Dutch word Das into English is tie or necktie and we are in the historic city of Leiden so, therefore, the Leidsche Das.