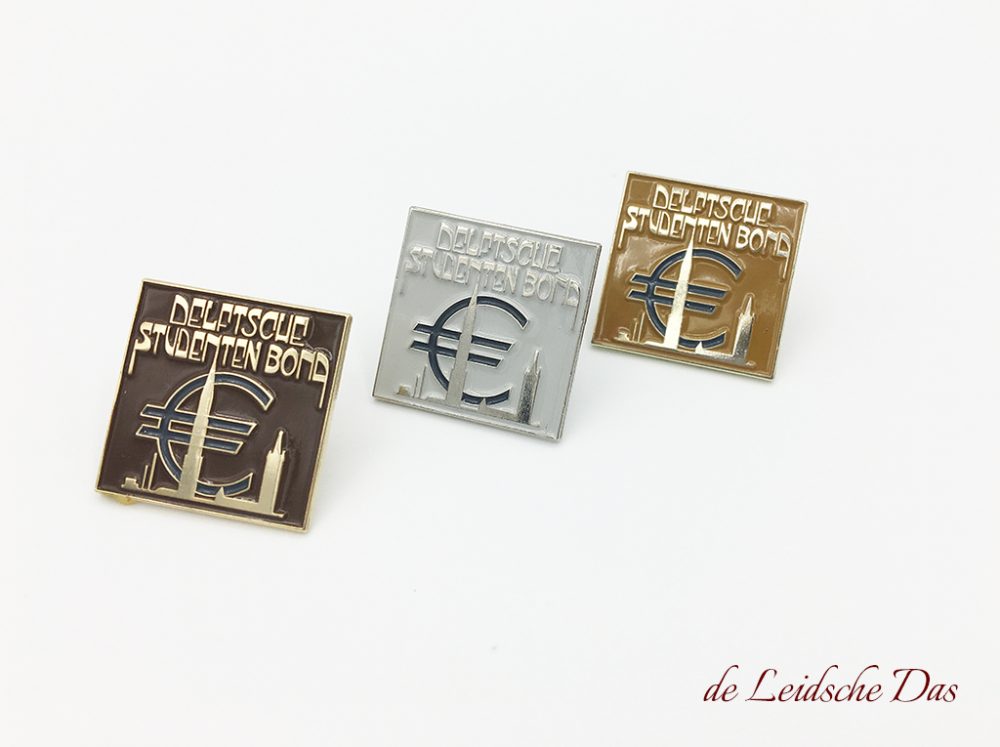 Personalized lapel pins made by the Leidsche Das.

Custom made personalized lapel pins.
The image at the top shows specially made personalized lapel pins we made for a student union.
Whatever style or shape of lapel pins you are looking for, we will be happy to create a personalized design for you based on your wishes.
Lapel pins are an excellent way for a company to promote a product or brand and are great for special events or fundraisers.
We accept orders as small as 30 pieces of custom made lapel pins and do not charge sky-high prices for them. Not only do we offer a low minimum order quantity at an affordable price, but our prices also include the following.
Our pricing for personalized lapel pins.
What's included in the price if you want to have custom lapel pins made?
1 – No design fees, our prices include creating the design of the lapel pin.
2 – We don't charge set-up costs.
3 – We don't charge extra costs for using multiple colors.
4 – We don't charge costs for making the custom made mold.
Our prices for custom-made lapel pins are listed in the following currencies, Euro, US dollars, and British pounds.
| Pricing custom lapel pins in, | Euro | USD | GBP | Lapel pins |
| --- | --- | --- | --- | --- |
| 30 - 49 pins | € 3,95 | $ 4,50 | £ 3,55 | Price per pin |
| 50 - 99 pins | € 3,00 | $ 3,45 | £ 2,70 | Price per pin |
| 100 - 299 pins | € 2,40 | $ 2,75 | £ 2,15 | Price per pin |
| 300 Plus price on request | | | | |
Creating the design of your personalized lapel pins.
You will undoubtedly have some ideas and requirements of your own for the lapel pin design.
If you have a company logo or other image you would like to use in the lapel pin design, please upload it on the request form.
Please fill in the fields below and tell our lapel pin designers more about your requirements.
Request form for our free lapel pin design service.
The time we need to make your personalized lapel pins.
In general, the entire production process of your custom made lapel pins takes two to four weeks.
When we receive your approval for the design of the lapel pins, we will send you the final quotation. As soon as we have received the payment from you, we will start the production.
During the production process, you will be kept informed of the progress. Please note that we do not accept rush orders!
If you've still got questions! Feel free to contact us, we will respond to your message within 24 hours.

We are a Dutch company located in the historic city of Leiden in the Netherlands and we design and manufacture custom made cufflinks and lapel pins for companies, army regiments, schools, colleges, hospitality industry, universities, organizations, (sports)clubs, fraternities, societies, local governments, and political parties.