Purple ties made by the Leidsche Das.
Personalized purple ties with club logo.
Purple ties custom woven in high-quality microfiber in the club colors with the club logo in a striped pattern.
We were approached by a club board with the question of we wanted to design a tie for their 75th jubilee.
After extensive consultation about the design, the final tie design was published in their club magazine and members could register for this special jubilee club tie. Although this club has just over 600 members, there were only 37 registrations for this special club tie.
Based on the number of registrations, the club board decided to place an order for 50 custom-made purple club ties.
From what we've heard, the club party and club ties were a big hit. Two days after the jubilee we received an order for 400 additional purple club ties from the club board.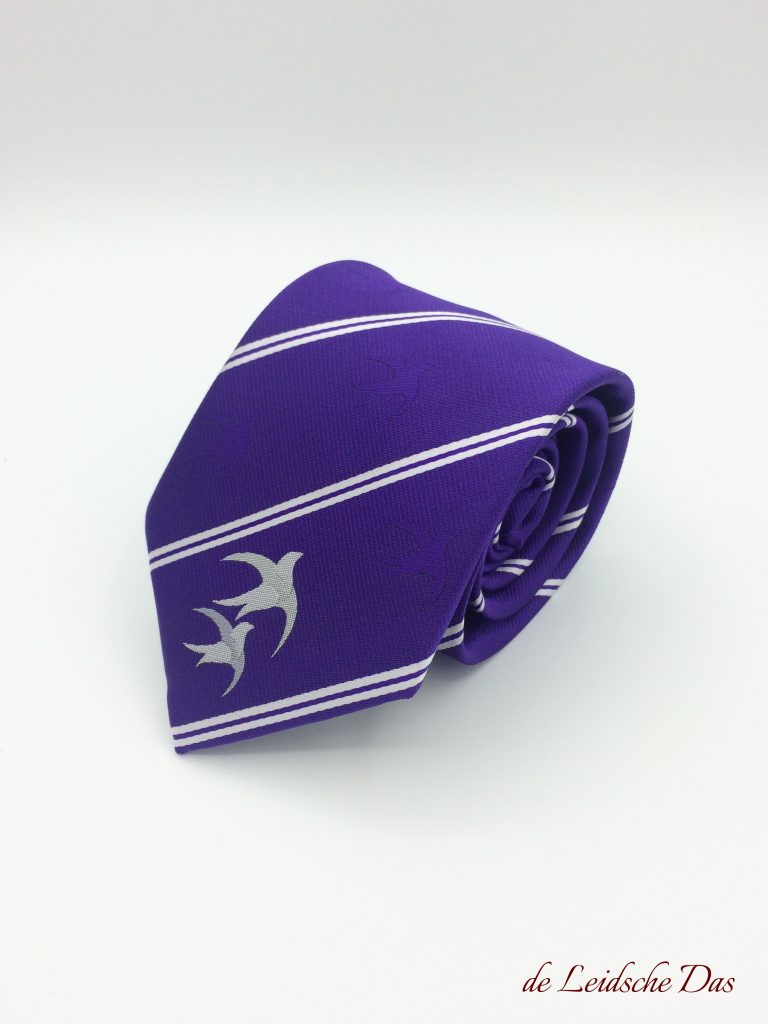 The fabric for these custom made purple ties was custom woven in high-quality microfiber.
With the word microfiber, you are probably thinking in the first place of a cleaning cloth and not custom-made ties!
After silk, high-quality microfiber is the most beautiful material to make ties with.
Would you like to have club ties made? Then we would like to invite you to contact our design department. Contact web form – Necktie free design request form.
Prices for custom made club ties in high-quality microfiber.
| Quantity (from) and Price per tie | EURO USD GBP |
| --- | --- |
| 50 – 99 Custom made club ties | € 11,98 $ 13,55 £ 10,80 |
| 100 – 199 Custom made club ties | € 9,60 $ 10,90 £ 8,65 |
| 200 – 299 Custom made club ties | € 8,35 $ 9,45 £ 7,55 |
| 300 Plus Custom made club ties | € 7,15 $ 8,10 £ 6,50 |
If you prefer silk club ties we will of course be happy to make them for you. The prices for silk neckties can be found on the page prices custom made silk neckties.
The production time for your custom made club ties.
After we have received your final approval for the club tie design, we will send you the definitive quote. As soon as we have received the payment, we will start weaving the fabric for your neckties.
We take great care and attention to every order we receive and produce. Depending on the number of orders in production, we can generally specify four to eight weeks from the time you place your order with us until your neckties are ready for shipment.
If you have any questions, you can always contact us via our contact form.
Custom logo ties we made for a golf club.